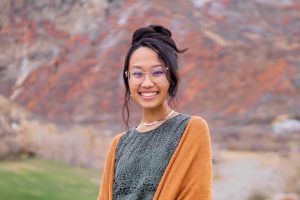 Welcome to our new team member, Kalliyan Lay. Kalliyan is a student at Brigham Young University, studying electrical engineering. She enjoys writing songs (Instagram:@_kalliayn, Youtube: Kalliyan Destany) and "old lady" hobbies like crocheting and embroidery. 
Both of Kalliyan's parents are Cambodian and came to the United States during the Khmer Rouge war era. She served a mission for the Church of Jesus Christ of Latter-day Saints in Cambodia. She loved serving the Khmer people and learning the language.
Kalliyan will be working on our Cobalt team! Currently, some of our team members are working with Cobalt Speech and Language to create an automatic speech recognition tool, specifically designed for Cambodian. Kalliyan said,
"I'm really excited about the Cobalt project because it gives me the opportunity to combine my love for technology and Cambodia and create something awesome for the people I love!"
Welcome, Kalliyan!